Centrifugal ducting industrial air conditioner SYL-GD-21
Product Detail
Product Tags
Principle
The circulating water that has cooled the high-temperature and high-pressure refrigerant is transported to outdoor unit by a water pump. At the same time, it flows through the evaporative cooling pad, thereby turning the high-temperature water into normal temperature water and flowing through the room again. The machine cools down the refrigerant under high temperature and high pressure, and continuously circulates the operation to maximize the energy efficiency ratio, thereby reducing energy consumption.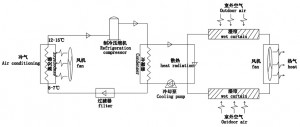 Evaporative power-saving air-conditioning unit is composed of compressor, condenser, expansion valve, evaporator, cooling pad and so on.
Specification
Floor standing centrifugal ducting air conditioner water cooled evaporative air conditioner

Model

SYL-GD-21

Tap water pipe diameter

DN20

Rated Voltage

380V~50Hz

Duct air delivery

30M

Refrigerating capacity

30 kW

Max. airflow(m3/h)

6500

Rated current

10.5A

Allowed working pressure exhaust/suction

2.8 MPa/1.5MPa

Rated power

6kw

Allowed pressure of Max./Min

2.8 MPa/1.5MPa

Maximum operating current

14.5A

Noise

65dB(A)

Maximum operating power

8kw

Refrigerant type/dosage

R22/3500g

Rated cooler water Tem. returned/ out

32℃/37℃

Indoor unit size

600*750*1350mm

Cool water flow(m3/h)

5

Outdoor unit size

910*610*1250mm

Cool water pipe diameter

DN25

Weight

190 kg
Features 
1.Energy-saving electricity-saving
Electricity consumption is 5kw/h to cool a 200 square meter space, it just is 1/4 energy consumption of traditional air conditioner. No need for external copper pipe, lower cost.
2. Bigger airflow and bring purified cool air. Cool the air down more quickly, and the cooling efficiency is higher.
3. longer cool air delivery and bigger area to cover
4 Cool the air fast, Decrease temperature quickly.
5. Widely application, one piece can cover 200M2, suitable for  product exhibition halls, school canteens, restaurants, workshops and workshops, exhibitions, farm and other places.
Main parts
Application
Workshop
---
---
Send your message to us:
Write your message here and send it to us