Fordeal company is a large comprehensive cross-border e-commerce warehouse located in Foshan City, it has warehouse area of thousands of square meters. In the hot summer in south of China, this kind of iron roof warehouse is very hot under long hours of  hot sun.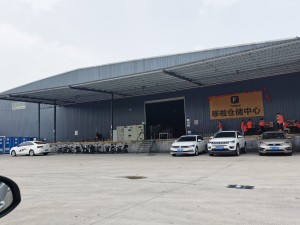 In order to improve the quality of the working environment for workers, the warehouse must be cooled down. Fordeal company responsible person Mr.Li call XIKOO business manager Mr.Gao to provide a cooling plan for their warehouse. After learned that Fordeal's warehouse area is relatively large, and the workers mainly work and stay in aisle to  load and unload goods. So Mr. Gao recommended XK-18SYA mobile industrial evaporative air cooler.
XK-18SYA has long air delivery, so it is very suitable to be placed in the aisle. and There are big cooling pad in all sides, which make it has better cool effect. And its water tank is relatively large, 350L water can be used for one day. The operation is very convenient, just add water and plug in to bring cool air immediately. After operating and experience, Mr.Li was very satisfied with XK-18SYA. He ordered 50 units for trial use instantly, and he said will order more units for other branch warehouses in the future.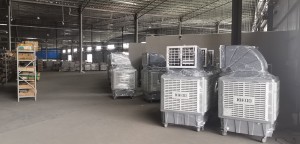 ---
Post time: Jun-16-2021