Guangdong Guangzhou liyuan technology Co., Ltd. Choosed XIKOO industiral evaporative air cooler as the cooling and ventilation equipment for their production workshop. The workshop has a construction area of 2,400 square meters and is an open workplace for good ventilation. The large fan was originally used as indoor cooling and ventilation equipment, but the effect was not satisfactory. Workers can feel the wind, but it is hot. At the same time, the dust in the workshop and the peculiar smell generated during the production process are difficult to be discharged outdoors, and the working environment is Very bad. Always got complaint from workers.  
At the end of 2019, the company contacted XIKOO, and adopted the program of   evaporative air cooler system to cool the workshop. It is also be called environment friendly air conditioner. After the project finished, it has had obvious effects on reducing indoor temperature, humidifying the air, enhancing ventilation, and reducing dust and odors, and has improved the working environment.workers can Work efficiently.
  Compared with the cooling and ventilation system using traditional central air-conditioning, fans and exhaust fans, XIKOO evaporative air cooler have obvious power-saving effects; and in terms of ventilation, cooling, and humidification, XIKOO industrial air cooler have obvious advantage over the traditional central air-conditioning. The fan and exhaust fan system, air cooler is an ideal ventilation and cooling equipment for open or semi-open places.Such as workshop, warehouse, station, hospital, market and more other places.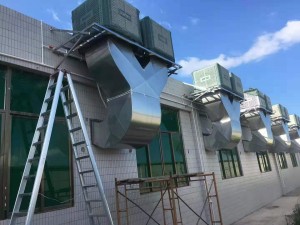 XIKOO air cooler also has its own characteristics, long life new material anti-UV engineer plastic body, water proof and stable circuit board, independent developed steel-plastic fan,   XIKOO water evaporative air coolers are widely used in places with high temperatures, peculiar smells and crowded places, and air cooler application in dry and semi-arid areas has also attracted more and more attention.
---
Post time: Sep-10-2021