Time flies quickly, and it's the end of 2020 now. This year's Chinese Lunar New Year is on February 12, People will have a week of statutory holidays to welcome the new year. From February 1st to February 2nd,  XIKOO  hold the annual year-end tea party. We got together to talk about the work in 2020 to make a summary, talk about the work plan for 2021, and some entertainment activities.
In the morning of February 1st, XIKOO staffs drove to Conghua together. After a year of work, there will be two days of leisure time together. Everyone was full of expectations and laughed along the way.
Arrived at the accommodation address at 2:00 pm, we decorate the venue firstly, someone blowing balloons, someone washing fruits, someone put up the banner. After the heads of the Domestic Business Department, Foreign Trade Department, Purchasing Department, Engineering Department, Administration Department, Finance Department, Production Department, and Quality Department gave a lively and comprehensive summary speech, the general manager Mr.Wang made a final summary. He pointed We must recognize and correct us. And we must build an efficient and professional team and strive to develop new air cooler products demanded by the market in the future. The meeting ended after the most important part of  giving red envelope.
It was dinner time, XIKOO chef began to show their skills, some cooking, some frying, and some roasting. Normally, we just communicated at work, but at this time, cooking together make us more close like families.we are big XIKOO family.   With everyone's close cooperation, a delicious dinner was ready soon. Look, is it delicious? This is Wuwei duck made by MR. Zhen and the chili fried pork made by Mr. Yang. I believe you can smell the fragrance through the screen.
Red envelopes, red envelopes, still red envelopes that is everyone favorite, a lottery draw was held at dinner. The luckiest thing is that our general manager Mr.Wang is the first to be drawn. Believe that in the new year, he will lead XIKOO with luck all the way.
The activity continued. Company held a birthday party for the staff who had their birthday in February. Everyone sang birthday songs and sent blessings to them. Vice manager MR.peng gave them birthday red envelopes. Then we enjoy the time in KTV. Everyone is singer at that time.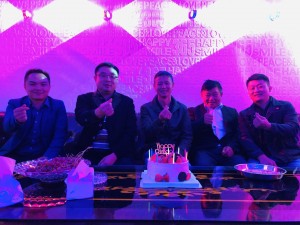 Let's farewell to 2020 and welcome a new 2021.
Editor: Parisa Zhang.
---
Post time: Feb-27-2021